Second Sunday of Advent
John went into all the region around the Jordan, proclaiming a baptism of repentance for the forgiveness of sins, as it is written in the book of the words of the prophet Isaiah,
"The voice of one crying out in the wilderness: ' Prepare the way of the Lord, make his paths straight. Every valley shall be filled, and every mountain and hill shall be made low, and the crooked shall be made straight, and the rough ways made smooth; and all flesh shall see the salvation of God.'"
Luke 3:3-6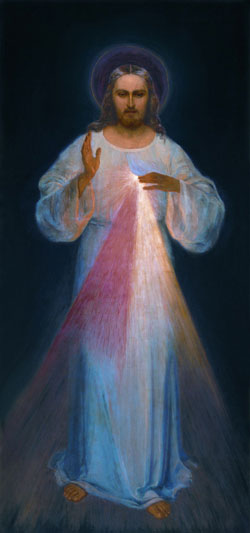 In the Jubilee Year 2000, Pope John Paul II proclaimed that from that year forward the Second Sunday of Easter would be celebrated as Divine Mercy Sunday. This was proclaimed at the Canonization Mass of St. Faustina Kawalska, who worked throughout her life to make all aware of the merciful love of God. St. Faustina (1905–1938) was born and raised in Poland. Following a vocation to religious life, she was accepted by the Congregation of the Sisters of Our Lady of Mercy. As a member of the Congregation, she worked as a cook, gardener, and porter. In her spiritual life, her contemplation on the Mercy of God led her to develop a childlike trust in God and deep love for her neighbor.