Thirteenth Sunday in Ordinary Time
As they were going along the road, someone said to him, "I will follow you wherever you go." And Jesus said to him, "Foxes have holes, and birds of the air have nests; but the Son of Man has nowhere to lay his head."
To another he said, "Follow me." But he said, "Lord, first let me go and bury my father." But Jesus said to him, "Let the dead bury their own dead, but as for you, go and proclaim the kingdom of God." Another said, "I will follow you, Lord; but let me first say farewell to those at my home."
Jesus said to him, "No one who puts a hand to the plow and looks back is fit for the kingdom of God."
Luke 9:57-62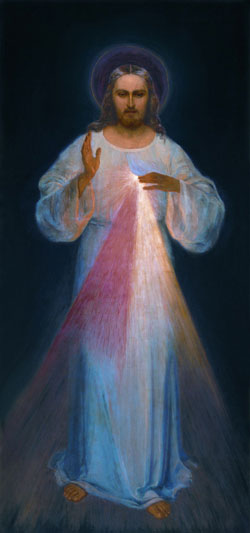 In the Jubilee Year 2000, Pope John Paul II proclaimed that from that year forward the Second Sunday of Easter would be celebrated as Divine Mercy Sunday. This was proclaimed at the Canonization Mass of St. Faustina Kawalska, who worked throughout her life to make all aware of the merciful love of God. St. Faustina (1905–1938) was born and raised in Poland. Following a vocation to religious life, she was accepted by the Congregation of the Sisters of Our Lady of Mercy. As a member of the Congregation, she worked as a cook, gardener, and porter. In her spiritual life, her contemplation on the Mercy of God led her to develop a childlike trust in God and deep love for her neighbor.