The Most Holy Trinity
"For God so loved the world that he gave his only Son, so that everyone who believes in him may not perish but may have eternal life. Indeed, God did not send the Son into the world to condemn the world, but in order that the world might be saved through him. Those who believe in him are not condemned; but those who do not believe are condemned already, because they have not believed in the name of the only Son of God."
John 3:16-18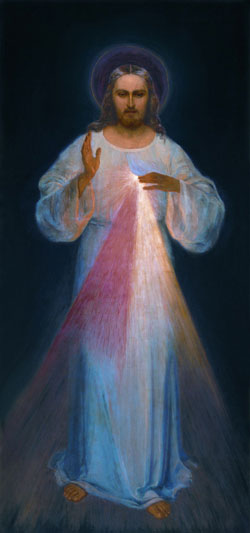 In the Jubilee Year 2000, Pope John Paul II proclaimed that from that year forward the Second Sunday of Easter would be celebrated as Divine Mercy Sunday. This was proclaimed at the Canonization Mass of St. Faustina Kawalska, who worked throughout her life to make all aware of the merciful love of God. St. Faustina (1905–1938) was born and raised in Poland. Following a vocation to religious life, she was accepted by the Congregation of the Sisters of Our Lady of Mercy. As a member of the Congregation, she worked as a cook, gardener, and porter. In her spiritual life, her contemplation on the Mercy of God led her to develop a childlike trust in God and deep love for her neighbor.