Second Sunday in Ordinary Time
On the third day there was a wedding feast in Cana of Galilee, and the mother of Jesus was there. Jesus and his disciples had also been invited to the wedding. When the wine gave out, the mother of Jesus said to him, "They have no wine." And Jesus said to her, "Woman, what concern is that to you and to me? My hour has not yet come."
His mother said to the servants, "Do whatever he tells you."
Now standing there were six stone water jars for the Jewish rites of purification, each holding twenty or thirty gallons.
Jesus said to them, "Fill the jars with water." And they filled them to the brim. He said to them, "Now draw some out, and take it to the chief steward." So they took it.
John 2:1-8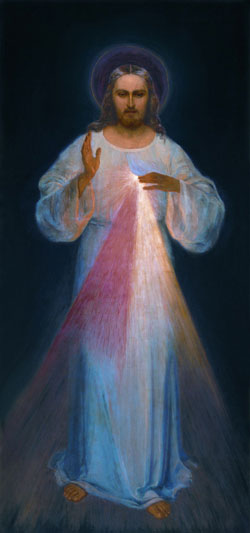 In the Jubilee Year 2000, Pope John Paul II proclaimed that from that year forward the Second Sunday of Easter would be celebrated as Divine Mercy Sunday. This was proclaimed at the Canonization Mass of St. Faustina Kawalska, who worked throughout her life to make all aware of the merciful love of God. St. Faustina (1905–1938) was born and raised in Poland. Following a vocation to religious life, she was accepted by the Congregation of the Sisters of Our Lady of Mercy. As a member of the Congregation, she worked as a cook, gardener, and porter. In her spiritual life, her contemplation on the Mercy of God led her to develop a childlike trust in God and deep love for her neighbor.