Fourth Sunday of Lent
As he walked along, he saw a man blind from birth. His disciples asked him, "Rabbi, who sinned, this man or his parents that he was born blind?" Jesus answered, "Neither this man nor his parents sinned; he was born blind so that God's works might be revealed in him. We must work the works of he who sent me while it is day; night is coming when no one can work. As long as I am in the world, I am the light of the world."
When he had said this, he spat on the ground and made mud with the saliva and spread the mud on the man's eyes, saying to him, "Go, wash in the pool of Siloam. Then he went and washed and came back able to see. The neighbors and those who had seen him before as a beggar began to ask, "Is this not the man who used to sit and beg?" Some were saying, "It is he."
Others were saying, "No, but it is someone like him." He kept saying, "I am the man." But they kept asking him, "Then how were your eyes opened?" He answered, "The man called Jesus made mud, spread it on my eyes, and said to me, 'Go to Siloam and wash.' Then I went and washed and received my sight."
John 9:1-11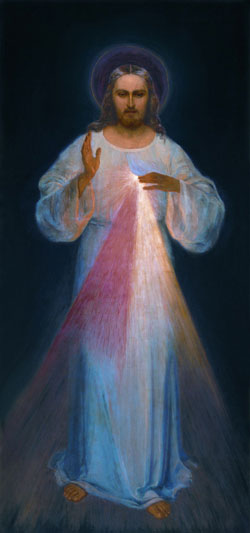 In the Jubilee Year 2000, Pope John Paul II proclaimed that from that year forward the Second Sunday of Easter would be celebrated as Divine Mercy Sunday. This was proclaimed at the Canonization Mass of St. Faustina Kawalska, who worked throughout her life to make all aware of the merciful love of God. St. Faustina (1905–1938) was born and raised in Poland. Following a vocation to religious life, she was accepted by the Congregation of the Sisters of Our Lady of Mercy. As a member of the Congregation, she worked as a cook, gardener, and porter. In her spiritual life, her contemplation on the Mercy of God led her to develop a childlike trust in God and deep love for her neighbor.